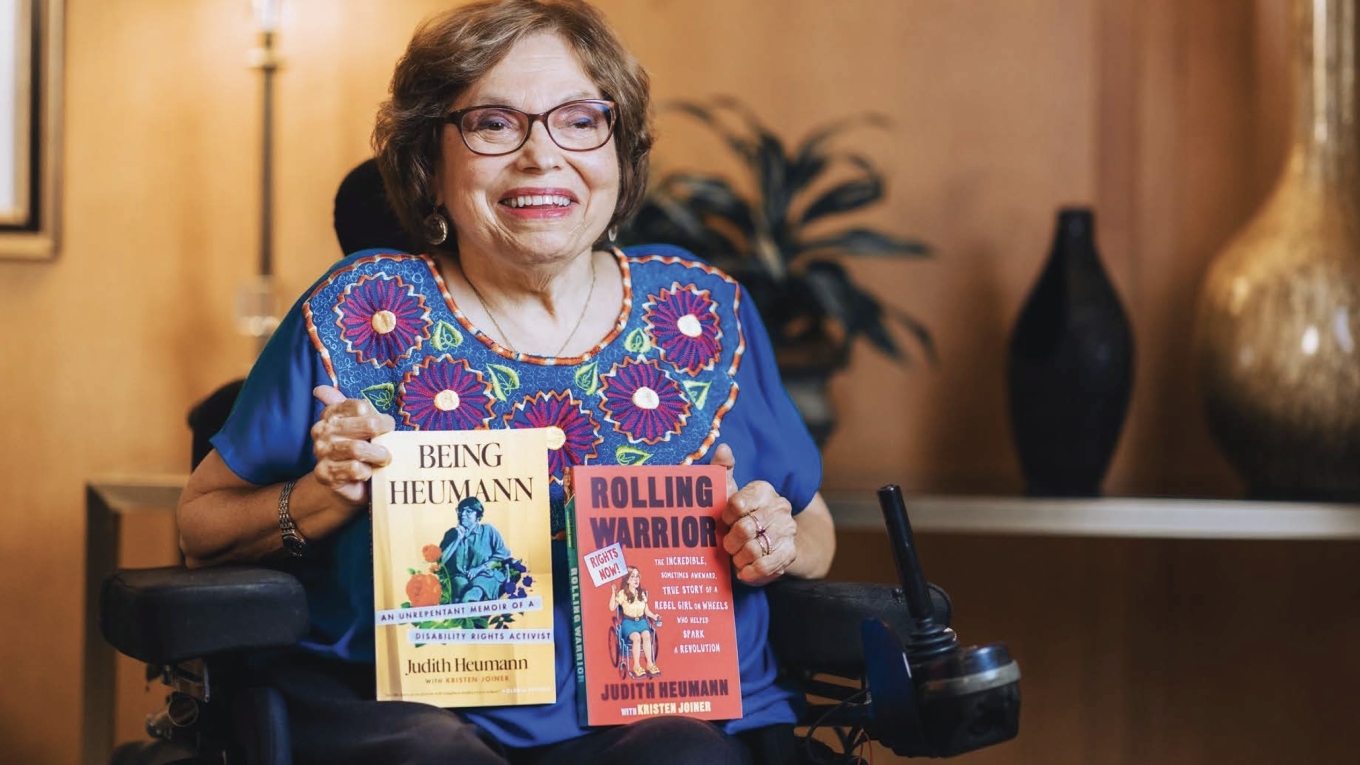 Disability Rights Icon Judy Heumann to Deliver 2022 Reynolds Lecture
Have you and other members of the disability rights community changed your approach to advocacy to respond to this moment in history, when we face the pandemic, climate change and heightened political division?
I don't think we've changed our approach as much as we've accelerated it.
I do a podcast called "The Heumann Perspective". I'm doing an article on suffrage with the American Association of Persons with Disabilities, which runs a program called REV UP. It's a non-partisan program that works with organizations and people with disabilities across the country to help them learn about their right to vote and what to do if they have a problem. The Civil and Human Rights Leadership Conference will be one of the other guests, and the third guest is a woman with disabilities from Michigan who leads an organization that works on voter rights. Voting definitely becomes a much bigger issue.
On the issue of the environment, there is more work being done. People recognize that environmental issues affect the whole country. People are going to become disabled more because of environmental issues with respiratory issues and things like that. So yes, the movement is expanding. He's moving into areas where he hadn't done much work before.
How has disability advocacy grown due to COVID?
I think COVID is something that a lot of organizations really started to work on in 2020 because policies put forward by some states would have made it more difficult for people with disabilities to access health care – they would have been put on lists where they would not have been prioritized. Groups like the Disability Rights Education and Defense Fund are very involved.
How can colleges and universities advance the rights of people with disabilities?
By creating an on-campus environment where faculty and students feel respected and where there is a very positive effort from the college to focus on issues related to disability studies, as well as having a solid disability services and making sure students know of it.
Students need to feel they are getting the services they need. It is a very big problem. Does the institution take into account what the student, faculty and staff population says about how they think disability is treated on campus?
Another very important issue is that of disability studies. Are there any Disability Studies courses? Is disability integrated into other study programs on campus in other fields of study? These are very important questions.
You have been part of so many defining moments in the history of disability rights. What do you consider to be your greatest achievement so far?
That I have been involved with an ever-growing group of disability rights advocates working to expand the movement and our effect. And let our numbers increase.
What is the next frontier?
Continue to work on both the effective implementation of existing laws, such as the Americans with Disabilities Act (ADA), Section 504 of the Rehabilitation Act [Students with Disabilities], and Persons with Disabilities Education Act; on voting rights; and to pay more attention to policies and funding in areas such as home and community services. In addition, we must strive to help the public, especially people with disabilities and their families, become more aware of existing laws and rights. Too many people aren't really informed…they may understand broadly, but they may not understand explicitly what their rights are. It is a crucial problem.
What helps you overcome some of the challenges of advocacy work?
The work we do makes my life better, and it makes other people's lives better the harder we work.