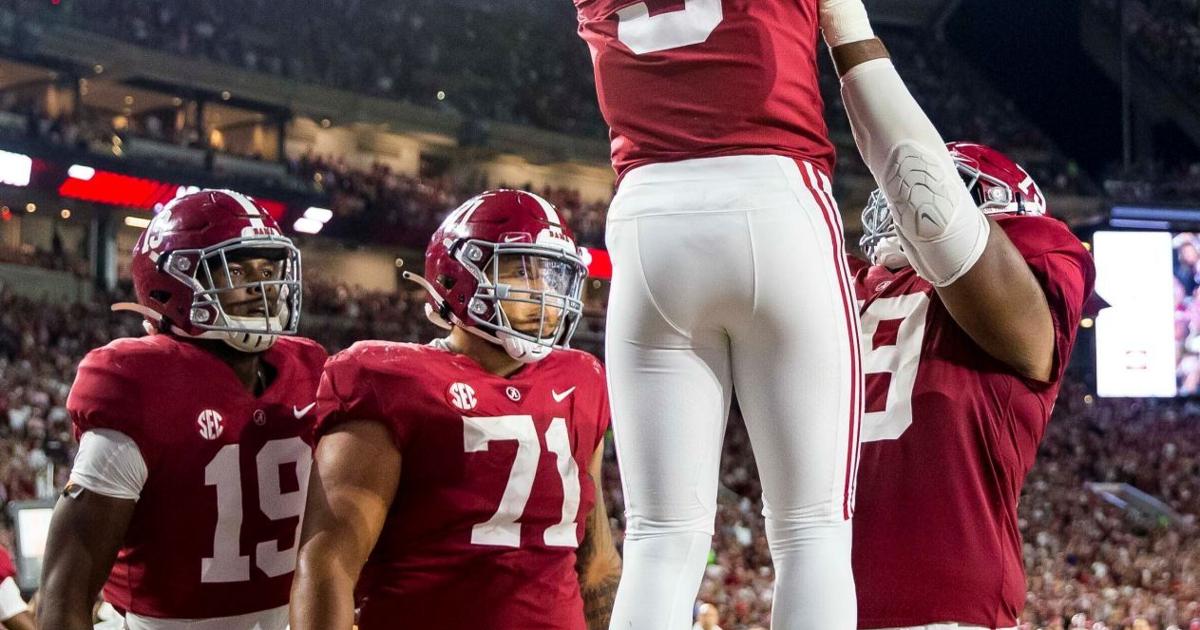 Smoke show: Young, Robinson power past Tide Flights | Print only
TUSCALOOSA — The Alabama players got to light those celebratory cigars again after another win over border rival Tennessee.
This one just didn't come so easily for the first three quarters.
Bryce Young passed for 371 yards and two touchdowns, rushed for two more scores and led No. 4 Alabama to a dominant fourth quarter and a 52-24 win Saturday night over the Volunteers.
Brian Robinson rushed for 107 yards and three touchdowns, helping the Crimson Tide (7-1, 4-1 Southeastern Conference) score 21 of their 28 fourth-quarter points in just over six minutes.
"It's a special rivalry for Alabama fans and players, so we just wanted to have fun while we could," Robinson said.
That fourth-quarter flurry turned a mostly competitive game against the Volunteers (4-4, 2-3), fueled by Hendon Hooker's 282-yard passing performance, into another lopsided final score.
"The offense responded and we kept scoring," said Tide coach Nick Saban.
The result was Alabama's 15th consecutive win in the border rivalry, with the previous five by an average margin of 33 points. And the players were able to return to the field after the end to light up and celebrate.
The Tide hogged the ball for over 40 minutes and converted 15 of 20 third downs. Tennessee was 2 of 13.
Young, a top contender for the Heisman Trophy, completed 31 of 43 passes and turned five of his frequent scrambles into first downs or touchdowns.
John Metchie caught 11 passes for 121 yards and two touchdowns. Jameson Williams gained 123 yards on six catches.
Hooker completed 19 of 28 passes with three after scoring. But he had a pass in the fourth quarter intercepted by Jalyn Armour-Davis, who returned it 47 yards to set up another Bama score.
"I thought Hendon had been fighting all night," Vols coach Josh Heupel said. "I thought he was really effective most of the time during the football game.
"I thought he kept fighting and playing in the second half and made some big plays."
Hooker's status was in doubt after a lower-body injury suffered against No. 12 Mississippi.
"I was kind of going day to day," he said.
Tennessee's Cedric Tillman had seven catches for 152 yards, including a 70-yard touchdown early in the fourth when Hooker hit him in stride on the right sideline.
It came quickly after Young Pump faked it, then ran and dived over the goal line for a 6-yard touchdown to open the fourth for a 31-17 lead. He kicked the ball near the goal line before falling on it.
Thirty seconds. Two scores. But this needed to be reconsidered before the decision on the ground was confirmed.
"I was talking to the side judge initially, and he said the box had no sight for it to be knocked down and he crossed the goal line based on the footage they had," said Heupel.
Then Alabama struck again, Young throwing a 65-yard bomb at Williams. That set up Robinson's 15-yard touchdown that effectively dashed the Vols' upset hopes.
"I'm not going to be negative about the game, I'm not going to be negative about our team," Saban said. "Really positive about how they came out and continued to compete in the game and, although not everything was perfect, we made the plays we needed to make to win the game."